You are here: Home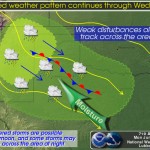 June 23, 2014 By Weather Leave a Comment
Last night, a line of thunderstorms that developed over eastern New Mexico and the Texas panhandle brought gusty winds and heavy rain to portions of the South Plains early Monday morning. This afternoon, the sun will continue to shine and moisture continue to increase; setting the stage for another round of storms tonight.
News @ Texas Tech
November 21, 2014 By Ciara Gaines
Here's a guide to your weekend Texas Tech sporting events.
November 18, 2014 By Ciara Gaines
Here's your KTXT Sports Update for November 18.

November 19, 2014 By Ralph Barrera
More than five thousand homeless kids go to school in Dallas County. KERA's Bill Zeeble talked to some about their lives and how pursuing an education motivated them to change their circumstances.