You are here: Home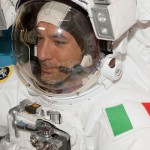 February 27, 2014 By Serena Smith Leave a Comment
A new report says the near-drowning of a spacewalking Italian astronaut working outside the International Space Station could have been avoided if NASA hadn't missed an earlier problem with his spacesuit. Although station astronauts found water after Luca Parmitano participated in spacewalk 22, they assumed it was anomaly. "You can't take anything for granted. What […]
News @ Texas Tech

January 23, 2014 By dginter
LUBBOCK – Texas Tech University officials announced today (Jan. 23) a $19.3 million contribution from Bayer CropScience to benefit research programs and projects in the College of Agricultural Sciences and Natural Resources.

January 23, 2014 By dginter
Some people who find a suspicious mole on their skin may wonder if it's skin cancer, yet wait around not seeking medical advice. A researcher at Texas Tech University is collaborating with researchers at the University of Utah to crowdsource pictures of atypical moles, in hopes of getting people to see a doctor sooner.

February 26, 2014 By Serena Smith
United States District Judge Orlando Garcia ruled the 2005 Ban on Gay Marriage is unconstitutional based on the 14th Amendment of the Constitution. The amendment, in summary, is the basis of civil and legal liberties within the United States, guaranteeing due process and equal treatment of all U.S. born citizens. He made the decision today […]
February 20, 2014 By Weather
The past week of west Texas weather has been fairly tame: occasional high-level clouds, mild afternoons, and seasonably chilly mornings. All of this only occasionally interrupted by a weak cold front. This overall weather pattern will carry us into the weekend.

February 14, 2014 By Serena Smith
(San Antonio, TX)  –  Democratic gubernatorial candidate Wendy Davis wants Texas to end its defense of the ban on gay marriage.  She tells the "San Antonio Express-News" people should be allowed to marry regardless of their sexual orientation. The Fort Worth state senator also wants her likely opponent in the November general election, Republican State […]

February 14, 2014 By Serena Smith
(Dallas, TX)  –  A North Texas girl recalls her terrifying fall through open air when complications with her parachute caused it to malfunction. "I remember getting in the plane and feeling that rush of excitement, and I remember jumping out the plane," says says 16-year-old Makenzie Wethington. Wethington says she was focused on fixing her […]

February 12, 2014 By dginter
(Ipswich, Australia) — An Australian teen is facing a number of charges after allegedly trying to rob a 7-Eleven while wielding a chainsaw and wearing a flower pot on his head.