You are here: Home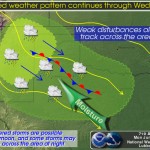 June 23, 2014 By Weather Leave a Comment
Last night, a line of thunderstorms that developed over eastern New Mexico and the Texas panhandle brought gusty winds and heavy rain to portions of the South Plains early Monday morning. This afternoon, the sun will continue to shine and moisture continue to increase; setting the stage for another round of storms tonight.
News @ Texas Tech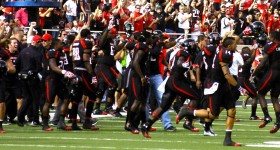 August 30, 2014 By Ciara Gaines
Texas Tech defeats Central Arkansas 42-35 Saturday night at the Jones AT&T Stadium.

August 29, 2014 By Ciara Gaines
Kliff Kingsbury will remain head football coach at Texas Tech University until 2020.

August 29, 2014 By Ralph Barrera
DALLAS–At the first game of the season this Sunday, SMU's football players will be wearing helmets outfitted with ballistics-grade Kevlar. The technology is meant to reduce concussions. KERA's Lauren Silverman checks in with the team.